データ捏造で不正に獲得した公的研究費総額2億ドル(200億円):国に与えた損害額の3倍の支払いを大学と研究者に対して求める訴訟が起こされる
2016年9月1日のサイエンス誌のニュース記事によると、アメリカのデューク大学らの研究者は不正な研究データに基づいて総額2億ドルの研究費助成金を国から得ていたとして、研究者および大学は国に与えた損害額の3倍を支払うよう訴えられていることが明らかになりました。
デューク大学のWilliam Foster教授の研究室で働いていたErin Potts-Kant博士が研究データの捏造などの不正を行い、Potts-Kant博士とFoster教授の共著で論文を出していましたが、結果的に、彼女が関与した15報の論文が現在までに撤回されていす。Potts-Kant博士およびFoster教授は不正論文に基づいて研究費を獲得しさらに不正論文を生産することを長期わたって繰り返した結果、不正に得た研究資金の総額が2億ドル(助成件数60件以上)にも上っていました。データ捏造に直接関与したPotts-Kant博士、不正を隠蔽したFoster教授およびデューク大学は、国に与えた損害を弁済すべしというのが、今回の訴えの内容です。
Relator Joseph M. Thomas brings this action on behalf of the United States of America under the False Claims Act ("FCA"), 31 U.S.C.§§3729-33,  against Defendants Duke University, Duke University Health System, Inc,("DUHS"), William M.Foster, Ph.D. ("Foster"), and Erin N. Potts-Kant ("Potts-Kant") to recover losses sustained by the Public Health Service ("PHS"), the National Institutes of Health ("NIH"), the Environmental Protection Agency ("EPA"), and other Federal agencies responsible for administrering scientific aresearch grants. (Civil Action No.4:13-cv-00017)
裁判でこの訴えが認められると、実際に支払いを求められるのは不正で獲得した研究費の金額ではなく、ペナルティが科せられます。訴状によると、デューク大学、Foster教授、Potts-Kant博士らの被告側に対して、国に与えた損害金額の3倍の金額の支払いなどが求められています。
WHEREFORE, Relator, on be half of the United Sates, prays that judgment be entered in their favor and against Defendants as follows:
1. That Defendants pay the United States triple the amount of its damages to be determined, plus civil penalties of up to $11,000 for each false claim, statement, or record; (Civil Action No.4:13-cv-00017)
告発者は、当時デューク大学に所属していた研究者で、訴えが認められた場合、インセンティブとして数百万ドル(数億円)を手にする可能性があるとのことです。今回のこの訴訟は、国のお金を横領した個人や会社などに対して、その返還を求めて、個人が国を代表して訴訟を起こす制度False Claims Actに基づくものです。
ちなみに、Potts-Kant博士は今回問題にされている研究そのものに関する不正とは別に、25000ドル以上の研究費を着服し、アマゾンやウォルマート、ターゲットなどでの買い物に使っていたかどで2013年に逮捕されています。
サイエンスの記事:
"And last month, a U.S. district court unsealed a whistleblower lawsuit filed by a former colleague of Potts-Kant. It accuses the researcher, her former supervisor, and the university of including fraudulent data in applications and reports involving more than 60 grants worth some $200 million. If successful, the suit—brought under the federal False Claims Act (FCA)—could force Duke to return to the government up to three times the amount of any ill-gotten funds, and produce a multimillion-dollar payout to the whistleblower." (Whistleblower sues Duke, claims doctored data helped win $200 million in grants. Science News By Alison McCook, Retraction WatchSep. 1, 2016 , 2:00 PM)
訴状は公開されていて、内容を読むことが可能です。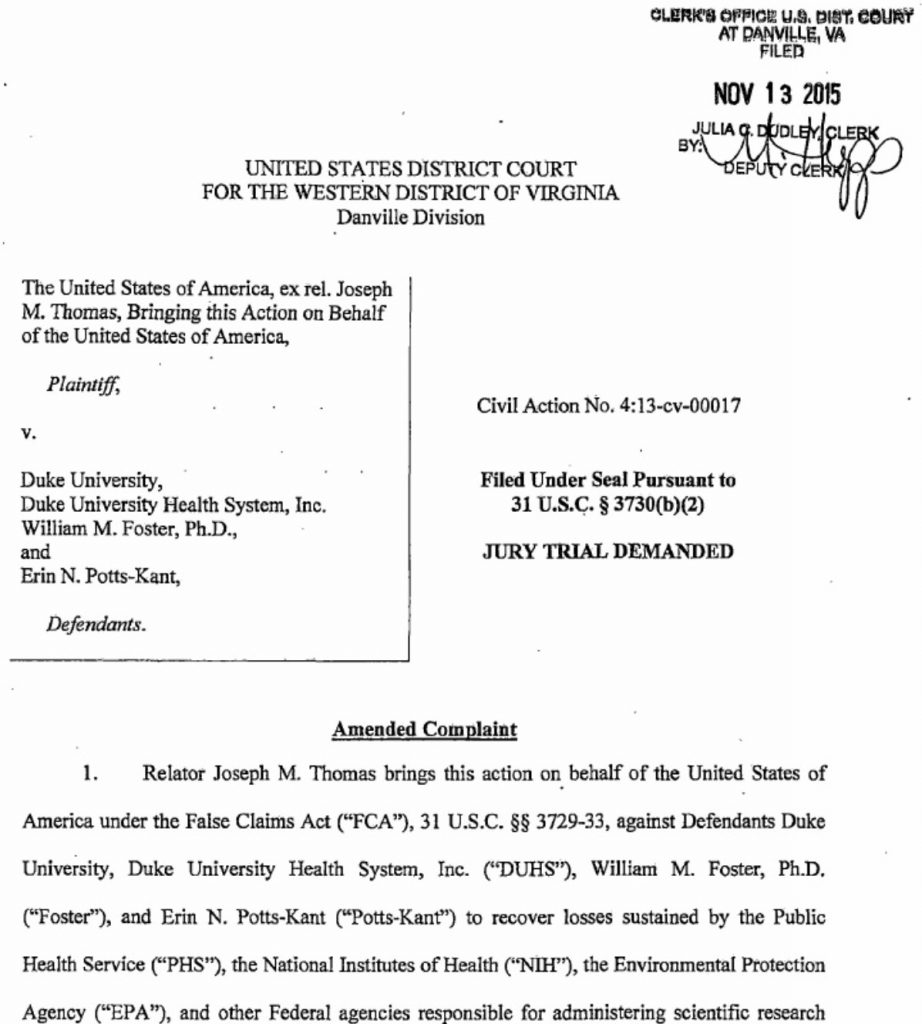 (Former researcher sues Duke, alleges Uni used improper data to receive funding. Duke University The Chronicle By Staff Reports | Friday, September 2 訴状へのリンク)
参考
Former researcher sues Duke, alleges Uni used improper data to receive funding (Duke University The Chronicle By Staff Reports | Friday, September 2)
Whistleblower sues Duke, claims doctored data helped win $200 million in grants. (Science News By Alison McCook, Retraction Watch Sep. 1, 2016 , 2:00 PM)
Embezzlement, 15 retractions, and a whistleblower could add up to trouble for Duke (Retraction Watch Written by Ivan Oransky September 1st, 2016 at 2:00 pm)
William Michael Foster, PhD Professor in Medicine Depart of Medicin Duke University School of Medicine
Lawsuit: Scientific fraud at Duke cost government $200 million in grant awards (The News&Observer By Jane Stancill September 2, 2016 7:22 PM)
Duke researcher adds another retraction in JCI, bringing count to 15 (Retraction Watch Written by Alison McCook May 11th, 2016 at 12:05 pm):"We've found another retraction for Erin Potts-Kant, a former researcher at Duke, bringing her total to 15."
So you want to be a whistleblower? A lawyer explains the process (Retraction Watch Written by Alison McCook March 18th, 2015 at 9:30 am)
False Claims Act (Wikipedia): The False Claims Act (31 U.S.C. §§ 3729–3733, also called the "Lincoln Law") is an American federal law that imposes liability on persons and companies (typically federal contractors) who defraud governmental programs. It is the federal Government's primary litigation tool in combating fraud against the Government.[1] The law includes a qui tam provision that allows people who are not affiliated with the government, called "relators" under the law, to file actions on behalf of the government (informally called "whistleblowing" especially when the relator is employed by the organization accused in the suit). Persons filing under the Act stand to receive a portion (usually about 15–25 percent) of any recovered damages. As of 2012, over 70 percent of all federal Government FCA actions were initiated by whistleblowers.
(Visited 10 times, 1 visits today)